Looking for sold out event tickets? Gotickets has concert tickets to events that are sold out at ticketmaster. One of the big ones this year is going to be Spice Girls Tour Tickets.

How To Get Free Tickets to any Concert
without having to spends hundreds of
dollars or waiting in line at Ticketmaster.
Concerts4Free.com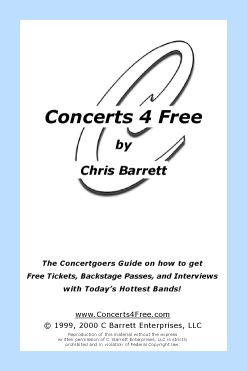 First of all, please let me to introduce myself. My name is Chris Barrett and I am a 20 year old from Haddonfield, New Jersey. This August, I will begin my sophomore year at Pepperdine University in Malibu, California. My two homes are just outside of two of the countries major cities, Los Angeles and Philadelphia. Along with nearby New York and Washington I have had thousands of opportunities to see great bands and go to great events. How could anyone pass them by?When I turned 14 I began to realize just how much money I was spending on concerts. Sometimes I was going to 8 concerts a month, easily spending $200 just on tickets. This didn't include parking, transportation, food, drinks and merchandise. I envisioned myself going into severe debt just over concerts; forget about college. I knew that there had to be a way to save money while still getting to see all my favorite bands.I didn't want to sneak into concerts because I didn't want to get in trouble with the law. I also cared about the artists I was going to see and didn't want to cheat them out of what they deserved. I watched people doing interviews and people on guest list getting in for free. I knew that there had to be a way that a kid like me could get in for free too!

By the time I was 15 I had mastered the techniques of getting into concerts for free. It was then that I decided that I had to share these secrets with the rest of the world. Every kid deserved to see what I was seeing for what I was paying: Nothing!As I was beginning my senior year of high school I realized the formidable costs associated with college. I didn't want to be paying back loans for the rest of my life and I didn't want my parents to go broke. That was when my friend Luke and I decided to become the first corporately sponsored college students. Together we joined with a company to get out the message of financial responsibility to teenagers. To learn more visit Chris and Luke.

I don't see how anyone could not want to save money by going to concerts for free. All that I learned has been compiled here for you! When you read "Concerts For Free" you will learn how easy it is to use my proven secrets! You WILL:

Meet your favorite band - I have met hundreds of bands including Blink182, Weezer, Mandy Moore, Jessica Simpson, Green Day and Limp Bizkit. Many have emailed me about how they met N*Sync, Backstreet Boys, Red Hot Chili Peppers and No Doubt! I hope that many more can learn how to meet their favorite stars.

How to get free tickets (to even sold out shows) - I have attended over 100 concerts in the last 5 years, all for FREE! I have gotten into sold out shows the night of the show without ever purchasing a ticket!
How to get free backstage passes - Hanging out backstage is the best way to enjoy any concert. Last year I was hanging out in the Press area at the Vans Warped Tour when guess who came up and were standing behind me talking? Mark, Tom AND Travis from Blink 182!
How to get free video & photo passes - I having a video pass means that you can tape the entire concert! I have a collection of video taped concerts for my own enjoyment whenever I want to! There's nothing like watching an Incubus concert from the comfort of my own bed!

How to get free press passes - The Press area is always very exciting. All the bands come by to check out what is going on and meet with people. You can ask them almost anything and hang out with nationally recognized journalists!

Start your own concert magazine - Starting your own concert website or magazine is the best way to share your concert experiences and show off all of the pictures of you with celebrities. It's not at all difficult and you'll have fun creating it!

How to get free promotional CDs before they are released - What could be better than getting free CDs delivered at your doorstep? It's better than downloading the CDs off the Internet because it is faster, easier and I'm not stealing from the band. Also, I don't have to spend time to go out and buy CDs. I even get CDs before they come out in the stores; at the same time the Record Magazines get their copies! You should have seen my friend's faces when I had the Eminem CD six weeks before it came out!

What to do once you are hanging out backstage with your favorite band - Ever imagine what you would say to your favorite star if you could? Well now you can! I was hanging backstage at one show and I was watching the band (which will remain nameless) practice their instruments, eat food, and play with toys. Yes they requested those little toys you would buy at a dollar store! These are once in a lifetime experiences that you could have all the time!

How to get free interviews with any band - You can get your own private interview with your favorite band! I have done interviews with all my favorite bands asking them whatever I wanted to. You'd be surprised at a lot of there answers!

Who needs this manual and why? Everyone and anyone who is interested in music of any kind! You can use this manual to get free tickets to your first concert or your 30th. Have you ever skiped a concert because it was way to expensive? Have you ever waited in line but not gotten tickets anyway? Well wait no longer and start going to concerts for free! You can be 13 years old or 103 years old, you can listen to punk or pop or country, it doesn't matter. This manual works for EVERYONE! It is filled with hundreds of tips that you can use to get into concerts for free. It guides you right through every step needed to start getting free tickets. Are you tired of paying $55 for one concert ticket? This is your escape from that you can now get the tickets for FREE... Forever!

There is so much more I that tell you about in my manual that I couldn't possibly list it all here! What you have read is only a small sampling the secret information you will learn when you read "How to Get Into Concerts for Free." You need to read this straight to the point manual if you are serious about saving thousands of your hard earned dollars. Just like I have done you can put your cash back into your pocket and spend it on something more useful. This information I am offering you is vital.